Coming off back to back hat-tricks, Messi has now claimed the honour of top goal scorer of the Champions League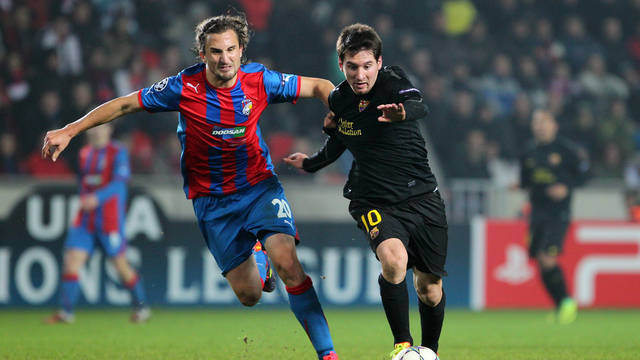 Messi has scored 13 hat-tricks throughout his career
He's 33 goals away from César's all-time record
Another match-ball to add to his collection. He now has 13, or 14 if you count the 4 goals he scored against Arsenal. Messi is inexhaustible, always wants more, and destroys every record. In Prague he reached 202 goals for Barça, and of these, he's scored 160 with Guardiola as manager. It's a demonstration that the arrival of Guardiola changed the life of the best player on the planet. The insatiable productivity of the Barça striker places him, once again, as top scorer in the Champions League.
5 goals away from the Camp Nou
In the league he tends to score at home, but in Europe, in away matches. That's Messi, who has now scored 5 goals in 4 games in the Champions League. The first two he scored in Minsk, to tie Kubala's goal-scoring record, and the 3 against Viktoria bring him increasingly closer to César's all-time record (235 goals). With his hat-trick against the Czechs, Messi overtakes Seydou Doumbia, the CSKA Moscow player, who has 4 goals in the competition. It's worth remembering that Messi has been top scorer in the Champions League in the last three seasons.
First hat-trick in Europe
6 goals in 4 days. It seems easy but it isn't. To score two hat-tricks in a row is only possible for the selected few, so much so that Messi has done it for the first time. In fact, if we don't take into account the 4 goals he scored against Arsenal in the 2009/10 Champions League quarter final, this is Messi's first hat-trick in European competition.