The Chilean, who returned to action in Prague after nearly two months injured, played his first game in the Champions League, not only for Barça, but also in his football career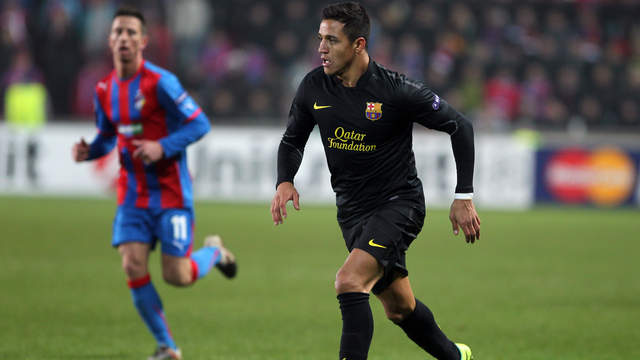 Tonight on Barça TV, 'Alexis, the Wonder Kid'
On Wednesday, at 21.30, Barça TV will premier a new 'Porta 104' in which Alexis Sanchez is the star. 'Alexis, the Wonder Kid' is a documentary produced by the program 'Contact' from Channel 13 in Chile, which takes a journey through the life of the Barça player.
Alexis Sánchez is once again a happy man. It's been nearly a month and a half since the day he was injured playing for FC Barcelona against Real Sociedad, in the third game of the season. On Tuesday, in Prague, Alexis got the medical all-clear before the game. He started on the bench against Viktoria, but was able to get some playing time when he came on as a substitute in the final minutes of the game. They were special minutes, as this November 1st 2011, Alexis Sánchez played his first game ever in the Champions League. It was in the 73rd minute when he replaced Abidal, and he showed, during the just over 20 minutes on the pitch, that he's 100% recovered.
Before, the UEFA Europa League
Until Tuesday Alexis had never played a game in Europe's top competition, not even with his previous club Udinese, the other European team where he has played. The injury sustained on September 10th against Real Sociedad prevented him from making his debut in the Champions League before Tuesday. The only European experience that the Chilean previously had was in the UEFA Europa League. In his first year at Udinese, the 2008/09 season, the Italian team reached the quarterfinals of the competition, and Alexis played a total of 9 games.