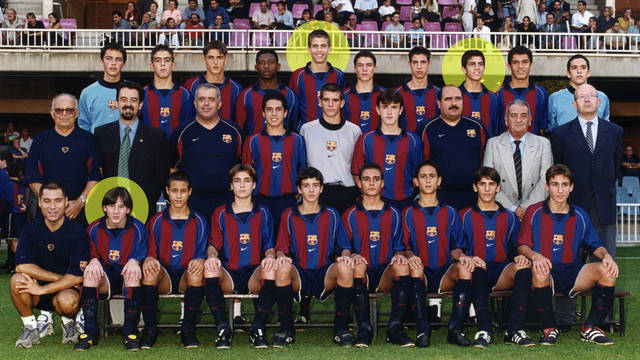 It was many years ago that Gerard Piqué, Cesc Fàbregas, and Leo Messi, last appeared together on the pitch. It was almost ten seasons ago, in the Cadet B team first, and later Cadet A, in which all three played together. A lot of things have happened since then. Messi has evolved into the best player in the world, while Piqué and Cesc both left the Club, and then came back to have success with the first team. In Prague, for the first time this season, the three of them were in the starting 11. Injuries to the defender and midfielder, and the odd game on the bench, had prevented this from happening before.
Perfect Understanding, perfect evening
So far, all three had shared only 27 minutes of play , spread between the return of the Spanish Super Cup against Real Madrid (3-2) and the 5-0 win over Atlético Madrid. Against Viktoria Pilsen they played together for 90 minutes, and they understood each other better than ever, clearly demonstrated in the last move of the game, when Piqué back-heeled the ball to Messi, who made it 4-0. Before that, Messi had scored two goals and Cesc also scored. In short, a perfect reunion for all three.
A 5-0 run
With all three on the field, in these 117 minutes together, Guardiola's team has a favorable balance of 5-0. To the four goals scored in the Synot Tip Arena in Prague one can add the Messi goal against Madrid at the Camp Nou, which helped to win the first trophy of the season. With Piqué, Cesc, and Messi, together on the pitch, the team hasn't conceded a single goal.