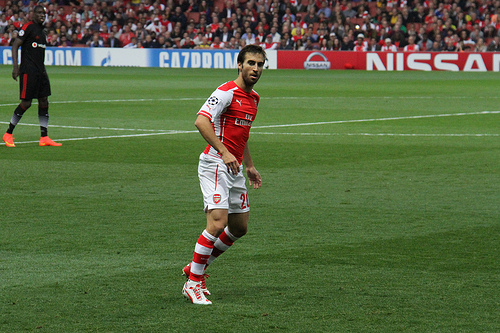 It is safe to assume that there were plenty of sore heads on the red half of north London on Thursday morning.
The day after the night before, many an Arsenal supporter will have woken up convinced that their mind was playing tricks on them.
As the ball dropped out of the night sky at White Hart Lane, was that really Mathieu Flamini slamming home an unstoppable volley to secure derby delight and spark wild celebrations?
Mathieu Flamini…really?
What a goal! Mathieu Flamini volleys in his and @Arsenal's second as the Gunners win at White Hart Lane #THFCvAFC pic.twitter.com/oXal7j6Dys

— Arsenal FC (@Arsenal) September 23, 2015

They will quickly become aware that dreams sometimes do merge into reality and that they can stop with the eye rubbing and get themselves to school/college/university/work/back to the pub etc.
Some may even be making that journey via their local bookmakers, with a man available at 25/1 on betting exchanges such as those at betfair to open the scoring before a ball was kicked, having outdone himself on the grandest of stages. (Just for the record, he is also available at the time of writing at 25s to repeat the trick against Leicester City on Saturday – but surely lighting can't strike twice, can it?)
God only knows what the odds were on him bagging a brace on Wednesday – you could probably have named your price before being laughed out of the door.
Those behind the counter will have had every right to question the motives behind your parting with cold, hard cash – given that Flamini had never before managed to net twice in the same game during a distinguished professional career.
He has never been expected to – grabbing the headlines has never been part of the water carrier's make-up – but here he is under the brightest of spotlights.

Speaking afterwards, Man of the Match Flamini looked as though even he couldn't quite believe what had happened, but he was quick to point out that he felt he had a 'point to prove' to those who have questioned his value of late and suggested over the summer that an Emirates exit was a foregone conclusion.
It wasn't, he is very much still part of the fold, and has just enjoyed one of the finest showings of the 369 club appearances he has made to date.
It is also worth noting that, in his first derby outing in some eight years, Flamini has, in netting a deadly double, preserved his personal undefeated record against Tottenham.
He was sat on the bench back in February, but never made it onto the field and has now taken his individual record to five wins and four draws from nine showings in the most important games on the fixture list.