With Barcelona's second leg tie with Arsenal in the 2nd round of the Champions League looming this week, it's always useful to remember just how devestating their main man in a number 10 shirt Lionel Messi can be in European competitions. With his legendary five goal salvo against Leverkusen taking place four years to the day, we reminisce on this as well as other times the Argentine magician proved to be too much for any opposition UEFA can throw at them.
Barcelona 7-1 Bayer Leverkusen (2012)

Four years ago to the day, we remember FC Barcelona's emphatic 7-1 over their German opponents Bayer Leverjusen, a game in which a 24-year-old Lionel Messi netted five goals.
Barcelona 3-1 Manchester United (2011)

As well as Arsenal, Sir Alex Ferguson's Manchester United were another English side who fell foul to Lionel Messi's on-the-field wizardry. After meeting each other in an Champions League final for the second time in three seasons, it was yet again Messi who spearheaded the Barcelona attack with devstating results scoring the second goal of the game and generally being a nuisance throughout. His Barca side were pre-match favourites for the match according to champions league betting tips sites and duly lived up to their billing with a complete performance against a United side who just couldn't cope with the Catalonian Giants' awe-inspiring display.
Barcelona 3-0 Bayern Munich (2015)
The social media fall-out that proceded following this UCL Semi-final game and 'that chip' from Messi makes this game practically impossible to forget. Thousands upon thousands of memes of powerless Bayern Munich defender Jerome Boateng spread like wildfire all over the internet after he'd been turned inside out by Messi and left on a heap on the floor before the Barca striker went on to score the goal of the tournament with a sumptious chip over Manuel Neur.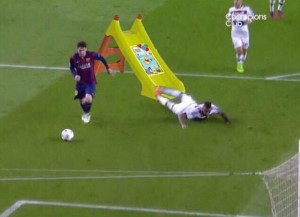 Of course it goes without saying that Barcelona went on to win the tournament with a 3-1 final victory over Italian side Juventus.