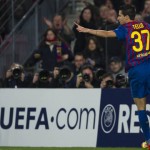 Who can imagine that after being in lead with 10 points between you and the next rival that you will lose 6 points and the difference will be only 4 points and you still waiting for upcoming 7 games, one of them with your competitor, guys I think It's so obvious that I am talking about Real Madrid and FC Barcelona.
I believe that this title of La Liga is the most excited title I've ever seen, because after It was a hopeless to see FC Barcelona's captain Carles Puyol lifting the Shield of La Liga, and all the experts in Soccer world said that this title is finished for Real Madrid side, the hope came back again, and It began to raise more and more, after a bad series of the bad results for The royal club.
the beginning of the race wasn't good for Barca, as we all know, this squad competed in a lot of tournaments and won a lot of titles and trophies within 3 years, this players didn't take any rest for 3 years of going here and there, travelling to Rome, Milan, London, Greece, playing to win champions league and the local tournaments la liga and copa del ray, so It was obvious that they need some rest.
in the other side, Real Madrid brought a lot of players in the current season, promoting his squad which was already full of stars like Cristiano Ronaldo, KAKA, Heguain, Karim Binzeema and Xavi Alonso, still fresh players. plus the huge number of the injuries for FC Barcelona players like Afellay, Poyul, Pique, Iniesta, Abidal, David Villa .. so It was like no way to win this title.
FC Barcelona began the season good, but the squad began losing the points after that because of being tired of the effort within the 3 tournaments, the problem for FC Barcelona this season was the away matches, the first one was Real Sociedad 2-2, then Valencia 2-2, then the negative draw with FC Sevilla in one of the most exciting games, then Athletic Bilbao 2-2, after this draws It was the time for the first lose with Getafe 1-0, after that they went back to the draw with Espanyol 1-1, then 0-0 with Villareal, the losing from Osasuna 3-2.
so the difference was 10 between Real Madrid and FC Barcelona, but after 3 draws from Real Madrid side 1-1 with Malaga and Villrreal, and the negative draw with Valencia the difference became 4 points only.
Now Real Madrid waiting 7 games, 4 of them out of home "away" with Atletico Madrid, FC Barcelona, Athletic Bilbao and Granada, and the other 3 " Home" games will be with Sporting Gijon, Sevilla FC and Mallorca, we are all in Catalonia waiting their game with us and waiting at least 1 more draw so we will be in the lead with 1 point and the title will be ours.
so let's hope that we will not lose any other points and we will keep our race clean without losing and watching them losing the points after the points, plus I hope and I pray for god to avoid any injury until we achieve what we are looking for, All I can say now is that someday I told my friend 2 months ago don't be sure of winning the title, I am so optimistic and I feel that we are about doing It and this title will be so difference of the other titles.