a lot of questions asking about the possibility to rest Lionel Messi, but Pep Guardiola insisted on his decision that the perfect for Messi and for the team is to play the Full game against Zaragoza the next Saturday.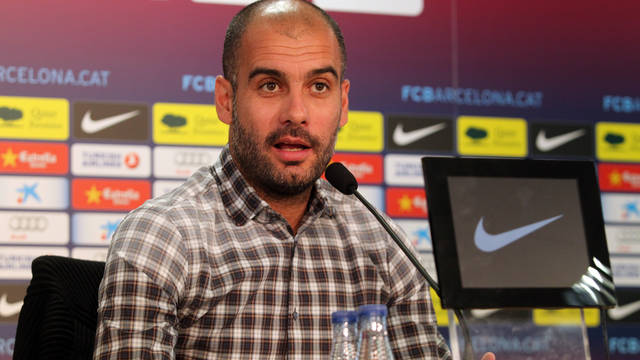 "If we drop any more points, it will be very difficult to recover them"
"It's not long since Zaragoza were in the second division, but they're a very prestigious team"
"I'd like to think Abidal is going to stay"
The reporters began to ask about Leo more and more after two games he played for his National team Argentina against Colombia and Bolivia, and about his performance in this two games.
Barca
Coach answered "yes, he is fit to play the full 90 minutes against Zaragoza, but we'll decide on Saturday". And then there was another question about the Argentinian. His patience tested, Guardiola then sarcastically retorted "What? Don't you want Messi to play? Is that what you want? If it is, then tell me. Won't you let me decide for myself!" Factly Messi is ready to participate in the game with the team but It s all now about Guardiola who will decide
No reserves for Wednesday
he said it clearly that in the upcoming match he will field "everyone I think we need to win the game". he didn t mention that he is intending to rest anybody to set for Milan game the next Wednesday. "If we drop any more points, it will be very difficult to recover them. We have seen how strong Madrid are", he said. he also mentioned the importance of getting the Three points before the clasico, which is not always easy to do because of the media which always focusing 
on this game Clasico even before it with 1 month
another question was about the clasico date which will be on a Friday, Guardiola said he was pleased it would be on Saturday, not Sunday. "The sooner the better, because we have to go to Japan. Abu Dhabi was only two hours time difference. This will be a longer journey, there is a difference of seven hours. We will need some time to adapt to the new time zone". But he added that ultimately, they will play whatever game whenever they are told.
and another question about the teams which will meet Barca in the semi finals of the Clubs world cup, namely Al Sadd and Espérance, Guardiola said he knows most about the Qatari side, "who have changed coach and they're a top side and the strongest one they have there. These are the champions of two continents and it's a demanding enough competition as it is".
Zaragoza, prestigious opponent
But the most immediate issue is Zaragoza at the Camp Nou. "They have a very good goalkeeper, they're a very physical side. Postiga is a great player, a goalscorer, he's very quick. They're coached by a manager with a lot of experience and Unzué has spoken very highly of him. It's not long since Zaragoza were in the second division, but they're a very prestigious team", said Guardiola, who hasn't forgotten how hard it was against the Aragonese outfit last season (1-0).
Optimistic about Abidal
Another pressing matter is the renewal of Éric Abidal's contract. Guardiola is optimistic. He said "if it was for what he has done, Abidal is a unique player. And we understand that he can give us more of the same. He's physically unstoppable. The club is crazy for him to continue. I have spoken with those in charge and they tell me that the club is also grateful to him. I'd like to think he's going to stay, for the good of everybody. It was also difficult with Alves. I just ask them to work on it in silence".